It is with a heavy heart that Victoria is
saying goodbye to hosting #PoCoLo
or Post Comment Love Linky. She has hosted this brilliant linky for a few years now and done a fantastic job of sharing the blog love, but now she is taking on new challenges and I wish her all the best with it.
As of 8th January 2016 both
Stephanie
and I will be co-hosting #PoCoLo. I was thrilled when Victoria decided to hand on the reigns to me and Stephanie and I look forward to sharing the blog love and bigging up all you fantastic bloggers out there.
If you'd like to learn a little more about Stephanie and I we both wrote introductions over on Victoria's blog, you can find them here:
A linky where you can share a post you're proud of, one that perhaps didn't get the exposure you were hoping for. You can share a personal post, a sponsored post, a review, a photo, a competition, whatever you like - as long as it was written in the last week.
You'll be able to add your link to either of our sites every Friday and between us we'll comment on every post in the following week.
PoCoLo rules:
Please comment on at least two other posts and share the word about #PoCoLo on Twitter - be sure to tag us: Stephanie - @LifeAt139a, Morgan - @MorganPrinceCom.


Your post has to have been written in the past week.


Please include the #PoCoLo Badge on your post.
If you're a regular linker to PoCoLo then you'll know that Victoria hosted a Newbie Showcase every week, introducing a new blogger to linkers.
Stephanie and I will continue with the Newbie Showcase as part of PoCoLo. The newbie will write a little about themselves and we will encourage linkers to pop over to their site and social media channels to say hi. If you're a newbie (have a blog under one year old) then please
get in touch
- we'd love to showcase you and your blog.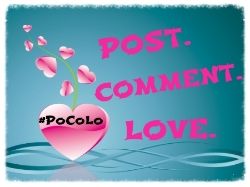 <div align="center"><a href="http://www.morganprince.com/p/pocolo.html" title="Post Comment Love"><img src=" http://i1322.photobucket.com/albums/u568/ToriWel/4e4a1bf6-07cb-494b-b06e-f959b1fe1311_zps654d027a.jpg" alt="Post Comment Love" style="border:none;" /></a></div>